Maker: Goulston Technologies, Inc.

1. GPA Series of IV Enhancers
The initial IV of post-consumer or post-industrial PET will decrease during the different stages of the recycling process.

Masterbatch additives to improve the efficiency of PET extrusion processes.

Maintain and/or increase the IV and molecular weight of PET polymer

Decrease the Melt Flow Rate (MFR)

Bi-functional. They do not form cross-links or gels

Easy and ready to use in pellet form

GPA-133E

Compounded in PP resin

Non-transparent applications

Recommended for use in fibers and strapping

GPA-105E

Compounded in PBT resin

For applications that require clarity/ transparency

Recommended for use on film, sheet, packaging, etc.

GPA components comply with the conditions listed in 21 CFR, §177.1630 and §177.1660 of the FDA for applications with food contact.

The increase in IV is linear, ~0.25 dL/g by 0.1% addition.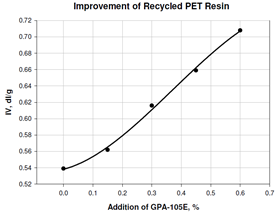 2. HYDTOSORB 1001 (Hydrophilic Melt Additive for Hygiene)


HydroSorb 1001 melt additive can introduce durable hydrophilicity as well as improve the softness and drape or "hand" of polypropylene fibers and nonwoven. HydroSorb additive should beaded directly into the hopper of extruder. Usage of gravimetric side feeders is possible and highly recommended. The letdown level is recommended at 5% and the temperature set in the extrusion process should be less than 260 ºC.